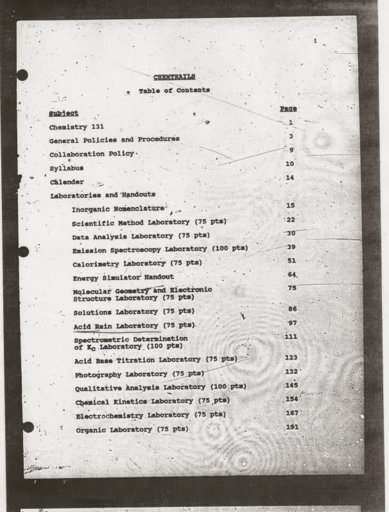 Reality: The book is a lab manual for freshmen at the academy who take chemistry course # 131 as an ordinary part of graduation.
"100" level courses are for freshmen students.
The lab manual contains nothing of relevance to the subject of aerial spraying, and the name is simply a play on the words contrails and chemistry.
This was found out by chemtrail believer Diane Harvey in 2001, but continues to be bandied about as part of chemtrails lore.



This youtube video shows a believer who ordered a microfiche copy of the manual for himself. He seems to not understand that ALL Air cadets are required to take basic chemistry as part of their curriculum:




[Update: Actual manual here: https://www.metabunk.org/files/chemtrails-chemistry-manual-usaf-academy-1999.pdf ]

Last edited by a moderator:

Jan 30, 2014

Why do these people not try to disprove their own claims before going to the trouble of humiliating themselves in front of a video camera?

It is absolutely clear that what Jay has posted is correct and easy to understand, so why do some choose to ignore the facts?

Like x 1

I will give a bit more info about it. Yes it is just freshman chemistry for the USAFA cadets. Why is it called "Chemtrails"?

Because every first year cadet has a small book to memorize aviation and USAF history and trivia from, called "Contrails". Chemtrails, was just a play on that.


http://www.usmilitariaforum.com/for...all-collection-of-air-force-academy-insignia/




Last edited by a moderator:

Nov 20, 2013

Like x 1
Informative x 1

vvv

New Member

Hi, is there a way to have a copy of this book? it seems avalaible in no library in europe (i live in france).

thank you for your answer.

1960s #US Air Force Science Class Book create the #chemtrails #conspiracytheories #USAF